New Patients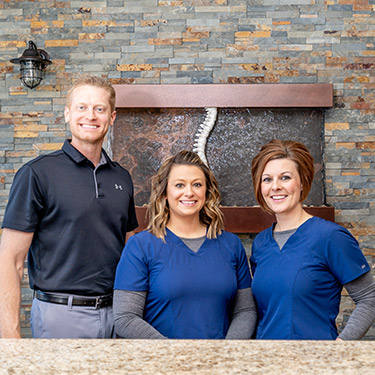 Welcome to Engelken Chiropractic & Acupuncture! Our warm and inviting practice has a positive vibe that lets you know you're in the right place. We encourage you to bring your spouse, significant other or family member with you to your appointment. Some patients who have never been to see a chiropractor may feel more comfortable if they have someone with them. Rest assured that we always will make every patient feel special and at home.
Click the button below to complete our simple and easy to fill, new patient forms. A PIN will be required to fill out the forms. Please call (316) 440-6888 to obtain your PIN before you begin to fill out the forms.
NEW PATIENT FORM »

The First Visit
The necessary intake forms can be downloaded from our website and brought in with you completed. Or you may fill the forms out when you get here. You'll then meet with Dr. Dave to have a consultation. He will ask questions about your condition to determine if chiropractic care is right for you.
Next, Dr. Dave will examine you. You will be given postural, neurological, orthopedic and physical examinations. He also may take X-rays on-site or refer you for other diagnostic testing. You then will have your first chiropractic adjustment.
This appointment takes about 30 minutes if your paperwork is already filled out. If you prefer to complete your forms in the office, please allow up to 20 extra minutes.
The Second Visit
During this report of findings appointment, Dr. Dave will review your X-rays and the results of your various exams. He will give you his recommendations for your care plan. At this time, he will present the costs of your care.
Book an Appointment
Discover the difference that chiropractic care could make in your life. Contact us today to schedule a same-day appointment! Free consultations are available.
CONTACT US »

New Patients | (316) 440-6888