Meet Dr. Dave Engelken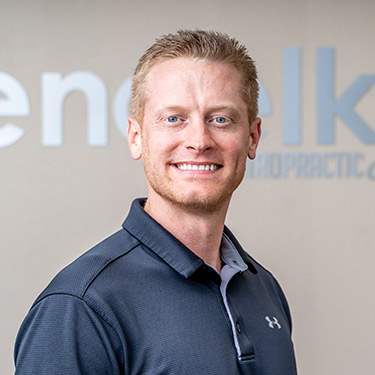 When I was 13 years old, my dad was an auto mechanic. He was working underneath the vehicle, and a hydraulic line broke on the lift. The vehicle came down on top of him and injured his spine pretty bad.
Dr. Dave's dad went to the medical doctor and got prescribed some medication. However, after about a week of taking the medicine, his father wasn't improving.
Dr. Dave's mother, who had been going to a chiropractor, encouraged her husband to go too. Though he was reluctant, Dr. Dave's father eventually agreed. "The chiropractor helped my dad, and he was able to go back to work the next day. The impact of that office visit made me realize at 13 that I wanted to become a chiropractor."
Education and Certifications
To prepare for his career as a chiropractor, Dr. Dave earned his Doctor of Chiropractic at Parker University in 2008. He also obtained a Bachelor of Science, Anatomy and a Bachelor of Science, Health & Wellness from Parker. He also has the following certifications:
Understanding, Diagnosing & Treating Concussions
Auto Injury Specialist
National Board Certified Physiotherapy Examination
Parker Research Institute of Dallas
Professional Organizations
Dr. Dave is a member of the following:
Kansas Chiropractic Association
American Chiropractic Association
International Chiropractic Association
Fellow Acupuncture Society of America
Parker College of Chiropractic Alumni
For information about Dr. Dave's awards and distinctions, please see his curriculum vitae.
Providing a Positive Experience
For Dr. Dave, one of the most fulfilling aspects of being a chiropractor is seeing a patient smile again after getting results from care. "When someone comes in and doesn't feel engaged, you can see it on their face. They're not really excited about life. And then within just a short time of being exposed to the office, we can get that person smiling again."
While Dr. Dave is happy to help people get out of pain, he also likes to give them hope.
Giving Patients His Best
I want to show up and be the best version of me for my patients. To be able to do that, it takes a lot of preparation.
While he sees patients 24 hours a week, Dr. Dave puts in about 35 hours a week in preparation to provide the highest level of care to his patients.
CHIROPRACTIC CARE »
Staying Active in Wichita
When he's not at the practice, Dr. Dave enjoys spending time with his wife and their twins or watching his daughter play volleyball. He also loves to restore and repair cars. Dr. Dave is also passionate about drag racing and enjoys riding motorcycles and boating.
Schedule an Appointment
Contact us today to book a same-day appointment with Dr. Dave, who was named "Best Chiropractor" for the 2019 Wichita Eagle Readers' Choice contest!

Dr. Dave Engelken | (316) 440-6888