About Us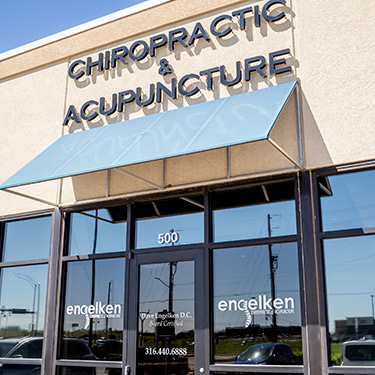 After Dr. Dave Engelken graduated from chiropractic college in 2008, he and a friend that he graduated with, opened a brand-new chiropractic office in a suburb of Dallas. After about two and a half years of practicing in that location, Dr. Dave and his colleague decided that they wanted to open their own practices.
Since Dr. Dave hails from Wichita and his family was still there, he decided to return to his hometown and open up Engelken Chiropractic & Acupuncture in 2010. At the time, the office was located on the north side of town. In 2015, he and his wife decided to move to East Wichita and have been here ever since.
Providing Gentle Care
Though Dr. Dave stands tall at 6'3, he calls himself a gentle giant. He gives low-force yet effective adjustments. Whether he's adjusting a newborn or an active senior, he takes a light approach that gets excellent results. Because many of our patients have experienced injuries due to auto accidents, Dr. Dave knows the importance of providing pain relief with a gentle touch.
The Second Happiest Place on Earth
While Disneyland is known as "The Happiest Place on Earth," we like to think we come in second. That's because we're excited to see our patients! You'll be greeted with a big smile and notice right away the energy that fills our practice space. We call it "low positive" because you won't see us jumping around. We are positive and happy but also calm because many patients come in with pain. They're looking for hope and help.
Training to Be the Best
Through a chiropractic management group, we regularly study and train to be the best we can. Much of our continued inspiration in wanting to do better comes from the group that we're involved in. That group is a nationwide one of elite doctors that are the best of the best in the chiropractic field.
MEET DR. DAVE ENGELKEN »
A Patient Success Story
Though the years, we've had the privilege of helping many patients. Dr. Dave recalls one particular patient.
The gentleman came in in a motorized wheelchair, and he had been in a wheelchair for about two years. After about 12 to 15 visits, we were able to get him back, walking again. He didn't have to use a wheelchair anymore.
Get Started Today
Take that first step toward feeling your best. Contact our chiropractic office today to schedule a same-day appointment. Free consultations are available. We accept insurance.

About Engelken Chiropractic & Acupuncture | (316) 440-6888